The Composition of PERTH WPC
PERTH Wood plastic composite is at the leading edge of current WPC industry. Had obtained 5 patents in Wood plastics material filed. WPC (Wood plastic composite) material is made of Wood Fiber, Plastic and Few of chemical additives:
Wood cellulose
- PERTH WPC uses the choiceness pine wood powder.
Plastic
-PERTH WPC adopts the plastic material containing both new and reclaimed HDPE (high-density polyethylene )as per the strict ratio. Other plastic material (like PP-Polypropylene ,PVC-Polyvinyl chloride etc) can replace PE if our clients have special demands.
Chemical additives (Couplant)
- Like colorants, coupling agents, stabilizers, blowing agents, reinforcing agents, foaming agents and lubricants make wood and plastic compounded perfectly with PERTH patent technology.
Producing technic
-PERTH owns the advanced producing line to mix wood and plastic via high-impact extrusion under controlled proper temperature.
Applications in many areas
- Perth make WPC enter into each?field of constructional material, including indoor/outdoor Decking, Fencing, Railing, Furniture and so on.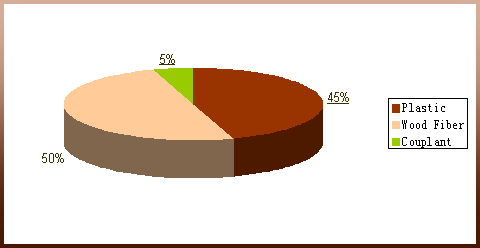 Formula change for special purpose
This percentage of HDPE and Wood Fiber can be changed to meet your special demand after passing our expert test. For example:25% HDPE +70% Wood fiber+5%Couplant. Except HDPE, we can also use other plastic material (like PP,PVC etc) according your special request after passing our strict testing.